KIDS BLOCK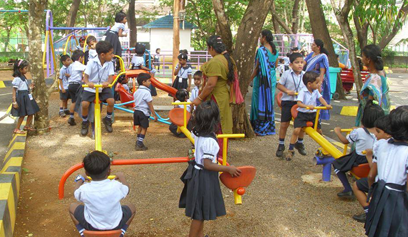 Located in a separate child-friendly campus in the heart of Changanachery Municipal Town, provides an enchanting World of Colours, Music and Toys along with Love and Care. Montessori System in Play School and comprehensive educational program in LKG & UKG provides a positive, happy and secure environment under the care of dedicated teachers.

The first section of Dr. Z H M Bharatiya Vidya Vihar is the BALVIHAR. It is located at a very calm and beautiful place which is very suitable for Children as well as parents to visit and enjoy the atmosphere. The very presence of the "Shanthinikethan" like building-where the respectful remembrances of the old and reverent teachers are still exhibited itself is a warm sight to all. The huge trees, playing aids, shady atmosphere etc. contribute a lot for creating a colourful atmosphere. Inside the Montessori Play School, one parent can find all the amenities necessary for a kid like music, colour, toys, and CDs etc.

Balvihar gives emphasis not only to give proper education for LKG and UKG classes but also to bring out the creative abilities of the tiny tots. The cultural festival or 'Kids Fest' is an example. The cute presentations of the kids bring extreme joy to the viewers. The experienced teachers of BALVIHAR are not just teachers alone. They are God mothers exactly. The care and affection of the teachers really brings out the inborn capacities of the children.