EXTRA CURRICULAM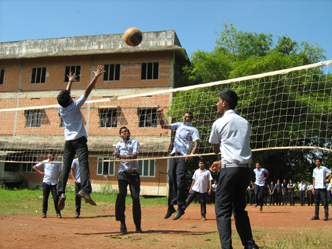 The students are provided with opportunities to promote their cultural and physical activities. They can be members of Chess Club, Photographic Club, Video Club, Sports Club, Drama Club, Boat Club, Science Club, Nature Club, Social Service Club, Social Science Club, Health club, arts club, literary club, yoga club and martial arts club according to their aptitude and interest. We strive to find out each child's potential and train them in the field of his /her choice­ –dance ,music both vocal and instrumental, martial arts, yoga, speech, art and crafts , drawing, cartooning, painting , clay modeling etc. Every student is expected to take active participation in games, sports, arts and literary activities of the school and special training is given in public speaking.

The house system in the school inculcates among the students a feeling of belongingness and togetherness. The spirit of oneness with their house is inspiring.

All festivals are celebrated with piety and fervour. Equality is maintained among all, irrespective of caste, creed or religion, and thereby healthy respect for different faiths is ingrained.